We all know breakups are tough but breakups in the world of business are another thing entirely. Trust, finances, assets, family and friendships are all on the line, they can go on for years and still not be resolved causing a lot of pain, financial stress, emotional stress and unwanted negative energy for all those effect by the process.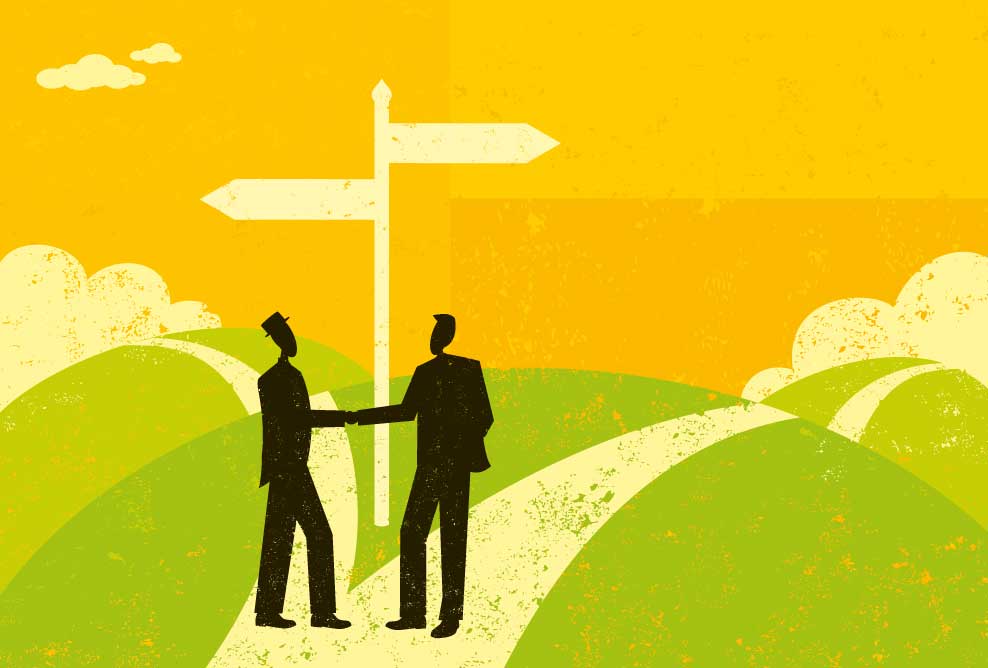 Splitting up a business partnership can bear striking similarities to ending a marriage – it can be messy, acrimonious, and sometimes sad, and it's easy to lose your sense of reason where money and assets are involved. That's why, it's important not to get blinded by trivialities and accusations, and take a calm, logical approach to dissolving a partnership, with as much civility as possible. Try to make your business break-up as painless as possible so that you can both move on in fresh directions. We know this all too well, which is why we've put together a must-have checklist when dealing with a business partnership that is ending.
Check your partnership agreement
Like marriages, when a business partnership is in its first throes, it's difficult to imagine that it could ever run into difficulties, and often, people do not want to contemplate the possibility that it ever will. This can lead to a reluctance to draw up a proper partnership agreement, which is almost always a mistake. But, if you do have a partnership agreement, and your alliance is on its last legs, this should be your first point of reference. If it has an exit strategy in it, as hopefully any decent agreement would, then this will provide a framework for dividing up staff, assets, goodwill or intellectual property.
Keep it civil and be prepared to make concessions
Without a partnership agreement, things could be more complicated, and your first move should be a frank but amicable discussion about goals, requests and strategies to move forward. To keep things calm, it's always best to hold meetings on neutral ground – somewhere private but separate from your business premises.
These initial negotiations may be fraught, so it's important to put your pride aside and try to stick to facts rather than getting embroiled in discussions about who did or did not do what. Go into negotiations with a clear idea of what you are hoping to get out of the partnership but be prepared to make concessions – it's not realistic to expect that your business partner won't have their own demands.
Call in the experts if you need to
Consider calling in professionals if your situation calls for it. Obviously, it depends on how much money is at stake – no one wants to be throwing money at solicitors if they don't have to – but if your business is quite complicated and you need to deal with staff, property, outstanding loans or personal guarantees, then legal advice might be your best option. Your current business solicitor is probably not going to be the best person for the job – you will both need your own independent representation to work in your personal best interests. Don't discount mediation either – sometimes a professional mediator can successfully smooth ruffled feathers and ease negotiations along amicably, avoiding costly legal battles.
Don't forget the red tape
Whatever the structure of your business, make sure that you notify all the relevant official bodies that your partnership is breaking up. If you're operating as a limited company, it's not so much that a partnership is dissolving but that a director is leaving and shares are being reallocated. In this situation, Companies House need to know – if you have a company accountant, they could probably take care of this for you. If you are trading as a partnership, then you need to let HMRC know that the partnership has terminated and advise them of the date that you ceased trading. If it's part way through a tax year, one partner will need to take responsibility for ensuring that the partnership tax return is complete and filed, along with individual returns.
Present a united front for as long as you can
If you have staff, and one of you will continue operating the business after the split, try and keep things under wraps and present a united front until loose ends are tied up. Your staff are likely to worry about their future, and speculation about your business relationship will almost certainly affect productivity. Similarly, be careful about how much of your forthcoming split you reveal to your clients. If there is uncertainty about who will keep which clients, you might need to talk to some of them in advance. But it's best to remain professional, no-one respects backstabbing or mud-slinging; it is only likely to leave your clients doubting your integrity or the security of your business.
Claw back some of your costs
Don't forget that you can offset the costs of any professional advice that you need to dissolve your partnership against your personal tax allowances. Whether it's legal, accountancy or valuation costs, you should be able to split the fees and record the amounts on each of your individual tax returns.
Get the price right
If you're in any doubt about how much assets are worth, get a professional involved to value them before you distribute anything or agree to deals. This could be particularly relevant with property or vehicles, but it can also be tricky to put a price tag on goodwill, domain names and intellectual property such as logos and trading names so don't be afraid to seek impartial, expert advice – probably from a chartered accountant who is used to valuing businesses.
Maintain your dignity
And finally, no matter how much time has elapsed, or how bitter things might have got, don't be tempted to badmouth your ex-business partner in public. You never know who is listening, and at networking events or industry awards, a dignified silence will always reflect better than full-on character assassination.
A business break-up can be financially traumatic, whether you're the partner continuing the business or the one who is starting again. At Funding Guru, we specialise in finding business finance solutions and can help you to bridge your cash flow if you have had to buy an ex-partner out, or we can arrange or provide venture finance to help you take a new direction. Even if you just need a short-term cash advance to cover the professional costs of dissolution, such as an accountant or solicitors fees, we can help.